Greetings!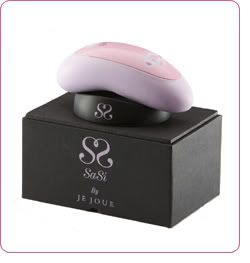 Every once in a while something truly innovative emerges in the world of sensual toys. Something that really adds to the market and doesn't just make minor improvements in shape or function, but is completely different. This is the case with French toy designer JeJoue's latest product –
SaSi
. It's not just another vibe. In fact it's rather difficult to describe
SaSi
without showing it to someone.
The item does have a vibration function (it would have been negligent not to include the basics.) But it's more like a little robotic finger. It's truly a clitoral stimulator as it essentially "massages" that area with a very natural up-down motion with a little bit of arching and circling. This is the closest we've seen to automated cunnilingus. It may even be a useful tool for "demonstrating" to the unlearned what kind of motion is effective, and where. The massaging nub moves underneath an elastic silicone cover stretched over the bottom of the device.
As for the controls, we strongly recommend reading the brief manual included as the controls are fairly intuitive, but they're also context sensitive and not immediately obvious. On the top of
SaSi
you'll find 5 buttons: a middle "start" button and 4 arrows pointing each direction. There are two lights that illuminate to tell you whether
SaSi
is operating in "Favorites" or "Customize" mode. When you use
SaSi
in the "Customize" mode it learns what motions you spend the most time on and adds the 5 most common to your "Favorites" for quick access at your whim. The speed of the movement and intensity of vibration are controllable in either mode.
This toy is the most "intelligent" we've seen so far as it actually makes an effort to "learn" about its user. If only it would take out the trash and do the dishes!
SaSi
is not waterproof, so do not take it in the shower or tub. We're excited to welcome SaSi as one of our finest luxury items. Boudoir Essentials carries
SaSi
in three colors - Pink, Purple and Black so that you can choose the color best suited for you.